GemBuilder® for Smalltalk / VA provides an interface between Smalltalk clients in Instantiations VA Smalltalk and GemStone/S, and works with the Smalltalk execution engine to support application partitioning for improved client/server performance.
GemBuilder for Smalltalk also extends the development environment by providing specific tools for developing GemStone/S applications, including browsers, inspectors, debuggers, and system administration tools.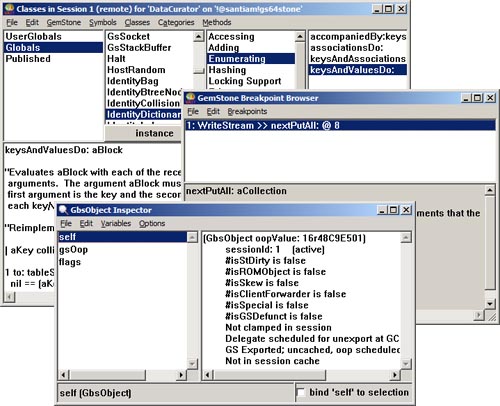 GemBuilder for Smalltalk / VA maintains compatibility with new releases of Instantiation's VA Smalltalk product, as well as with new releases of the GemStone/S object servers. GemBuilder for Smalltalk/VA is supported on Windows platforms.
Licensing & Terms of Use
You must agree to license terms and have an appropriate GemStone/S server license and keyfile, in order to use GemBuilder for Smalltalk/VA.
GemTalk licensing options include free and low cost Community and Web Edition subscription licensing, and custom perpetual Enterprise licensing. For more information on licensing, see GemStone Licensing, or contact GemTalk sales.
Release History
For a list of past versions of GemBuilder for Smalltalk/VA, and the release notes describing changes in each version, see the Release History and Table of Release Notes.
Version Compatibility

To lookup the GemStone Server product and versions, client Smalltalk versions, and OS platforms supported by GemBuilder for Smalltalk/VA, see the following:
GBS 5.4.5 Compatibility
GBS 5.4.4 Compatibility
GBS 5.4.3 Compatibility
GBS 5.4.2 Compatibility
GBS 5.4.1 Compatibility
GBS 5.3.2 Compatibility
GBS 5.2.7 Compatibility
Current version – 5.4.5
Released June 2019
Client Smalltalk: VA Smalltalk
Server: GemStone/S 64 Bit v3.x
GBS v5.4.5 is a maintenance release adding support for GemStone/S 64 Bit 3.5 and VA Smalltalk 9.1, and fixing several bugs.
Version 5.4.5 is compatible with GemStone/S 64 Bit 3.3.x and 3.4.x only; Customers using GemStone/S 2.x or 32-bit GemStone/S will use the latest 5.3.x version for GemStone/S 64 Bit 2.x, or the latest 5.2.x version for 32-bit GemStone/S.
For documentation, download, and other information on older 5.4.x versions, see 5.4.x.
Documentation
Release Notes v5.4.5 pdf html
Installation Guide v5.4.5 pdf html
User's Guide v5.4
Download
You may only download if you have have appropriate license agreements, or will be using GBS/VA with a Community Edition License.
GBS 5.4.5 for VA Smalltalk
This download includes the documentation.
Bug Notes
Bugnotes describe bugs and unexpected behavior in versions of GemStone software. Refer to these bugnotes regularly to be sure you are aware of issues you may encounter.
For bugnotes for other versions and other products, see the complete list on the Bugnotes Resource Page.